Come on out to our last community night until fall!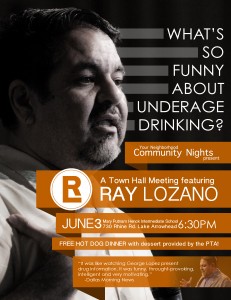 Rim Communities for Youth and Rim Family Services would like to invite the entire community to attend a free event: A Town Hall Meeting featuring Ray Lozano! Come on out and hear a hilarious presentation raising awareness on the dangers of underage drinking. The event's main presenter, Ray Lozano, is a wildly dynamic and entertaining speaker!
Since 1986, Ray Lozano has educated and entertained thousands of students in hundreds of middle schools and high schools from Alaska to Florida, and internationally in the Cayman Islands and Bermuda. Ray has a talent and gift for conveying what could be construed as boring drug and alcohol prevention information in such a fun and humorous way that his audiences come away informed and entertained. The best analogy would be giving your kids medicine in a spoon-full of sugar. There's a good reason that Ray's audiences feel like they just came back from the Improv rather than from a "lecture." Ray has performed stand-up comedy at the Improv in Hollywood and Ontario, CA. It is his background in comedy that keeps his audiences coming back time and time again. The fact that he has been asked to return to many of the same schools across the nation, some for as long as 15 years, speaks to Ray's ability to keep his information updated, fresh and relevant.
Alcohol is second most abused substance in our Rim Communities. The event takes place at Mary Putnam Henck Intermediate School (730 Rhine Rd Lake Arrowhead) on June 3rd at 6:30pm. There will be a free hot dog dinner and desserts!