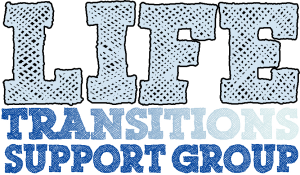 The group will help participants with making connections that may develop into friendships and a support network. We will cover topics together that will help us understand the process of transitioning from one stage of life to the new stage we create. We will learn techniques for identifying our strengths, interests, and passions.
We then will explore ways to re-invent ourselves for the next exciting season. Each participant will learn the steps to grieve their losses and create a vision for their future. We will learn ways to take steps in practical ways to move towards this bright future and begin to make it a present reality.
What will be covered in each meeting?
Session 1:
Become acquainted with group members. Understand the overall purpose of the program and sessions. Begin to explore the various changes in their world.
Session 2:
Explore through materials presented and group discussion different kinds of change and transitions. The Transitions Framework will be discussed.
Session 3:
Begin to explore together your own phases of transition and the accompanying emotions. We will also begin to explore how to plan for needed changes to transition to the next stage.
Session 4:
Understand in more detail the process of the three phases of transition and begin to explore your interests that will help you plan your transition.
Session 5:
Explore how we each have public and private selves. Discuss how we can appreciate and utilize our uniqueness to assist with the transitional process.
Session 6:
Discuss the importance of long term personal vision. Create a "Personal Vision Statement." Explore practical steps to begin moving towards fulfilling one's personal vision.
Session 7:
Learn the process of personal goal setting, and creating the steps to meet one's goals. How to stay on track towards goals attainment.
Session 8:
Identify emotionally healthy allies and mentors. Learn the components of a personal support system.
Session 9:
Understanding the difference between aggressiveness and assertiveness. Learn how to develop resiliency and become a self advocate.
Session 10:
New Beginnings and celebration of completion of the "Life Transitions Support Group."
The next group will start soon. If you are interested in participating, please call Rim Family Services personnel at (909) 336-1800.