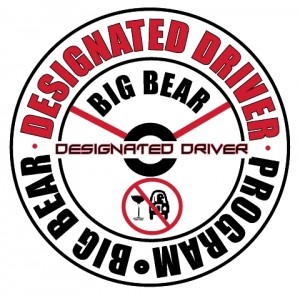 Big Bear
Designated Driver Program
In an effort to keep our streets safe, we are asking local businesses that serve alcohol to incorporate a "Designated Driver" program for their patrons if they do not already have one in place. This program allows the DD to receive free non-alcoholic beverages for the course of the evening, and the DD is presented with an official wristband that identifies them as the Designated Driver. Participating merchants support the program by allowing a pre-determined discount at their businesses when presented with the official DD wristband in an effort to honor those Designated Drivers that have willingly ensured safety on out streets when celebrating.
If you or your business is interested in participating in the campaign to keep our community's streets safe, please contact Rim Family Services' Prevention Department at (909) 336-1800
Check out all the business that utilize our program!
BARS/ALCOHOL OUTLETS –
(PROVIDING WRISTBANDS)
Alley Oops at the Bowling Barn
AV Nightclub
Azteca Grill
Barnstorm Cafe
Big Bear Chateau
Big Bear Elks Lodge
Big Bear Lake Brewing Company
Big Bear Mountain Brewery
Captain's Anchorage
El Jacalito Grill & Cantina
Hacienda Grill
La Bamba Mexican Restaurant
Laguna Grill
Maggio's Pizza
Murray's Saloon and Eatery
Nottingham's Restaurant Tavern
Nuevo Vallarta Grill
Old Country Inn
Paoli's Italian Country Kitchen
The Pines Lakefront
The Pine Tavern
Red Barron's Pizza
Sandys Sports Bar and Restaurant
Santana and Mavericks
Sonora Cantina.
Saucy Mamas
Sweet Basil Bistro
Whiskey Dave's
Wyatt's Cafe and Saloon
INCENTIVE BUSINESSES –
(PROVIDING DISCOUNTS)
A Christmas Store N More(10% off)  
Amangela's Sandwich & Bagel House(10% off)                                                                      
An Ran Ju Gelato(10% off)                                              
  Arco AM/PM The Bath Workshop (10% off)                            
Bear Essentials                                    
Bear Skins (10% off)
Bear Valley Ski & Board Shop (10% off) 
Belladonna (10% off)
Big Bear Vacations BLT'S Sandwich Bar & Grill                          
Brown Bear Gift Shop                                 
Chains Required Bike Shop (10% off)    
Chirp Nature Center (10 % off)                              
Copper Q (10% off or free small coffee)                    
  Del Lago's Boutique (15% off)                  
Gems of the West (10% off)                                     
Get the Burger                                          
Getboards (10% off)                                  
Goldsmiths Board Shop (10% off)              
Heidi's Consignment
Home Warehouse Design Center (10% off) 
Kathy's Postal Plus/Kathy's Art, Etc (10% off)                                                     
Mountain Munchies                                            
Mountain Room Escapes (10% off)                    
Natures Inn (10% off)                                      
North Pole Fudge (10% off)                         
Paisley Boutique (10% off)                          
PTL + Ministries (10 % off)                            
The Shirt Shanty 
Special Effects (Various Discounts)                  
The UPS Store (10% off shipping)