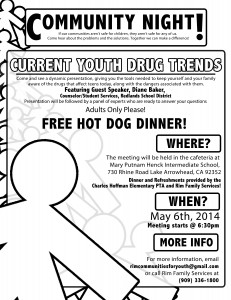 Please join us for our next Community Night! The topic will be: Current Youth Drug Trends, featuring Diance Baker from the Redlands School District. We hope the presentation will give you the tools you need to recognize the drugs that are influencing today's youth along with the dangers associated with them.
The date for this event is May 6th at 6:30pm at:
Mary Putnam Henck Intermediate School
730 Rhine Road, Lake Arrowhead CA 92352
There will be a FREE HOT DOG DINNER and dessert!!!
For more information, call Rim Family Services at (909) 336-1800